dkturner
0

July 26th, 2007 + 8:07 PM
·

dkturner
It's 2:35am, and I need to be in at work at 8 tomorrow. What am I doing? Listening over and over to the song I just recorded, wincing at every flat note, fuming at the lack of dynamics and generally giving myself a good going-over. This is called obsessive behaviour.

What puzzles me about this creation is why I found it necessary to put on an accent. Actually the accent itself puzzles me more. Aussie? South-East UK? Atrocious mixture of the above plus my own natural Saffer?

Anyway, it's nice to be writing again. I've had a creative block for a long time for various reasons. One has to be happy (or angry?) to write music. Otherwise it just doesn't work. Also I think my best work is the completely random stuff that just comes out without plan or reason.

Does anybody actually read this crap? Ah well. I should have claimed to be female and put a picture of some or other model up. Then you buggers'd read, wouldn't ya? Yes, you know who you are.
0

October 9th, 2006 + 5:10 AM
·

dkturner
First time back on this site in ages. It seems to have been fixed ;-). I used to have huge problems logging in. So perhaps it's time to put some more music up. Trouble is I've been doing mostly classical stuff for the last few months, and I guess that doesn't really fit the bill around here!

But I promise I'll haul the ole git-tar out of storage soon and write something rocking.

In the mean time, would anyone like to hear some pseudo-classical filler music I wrote for a local production of David Auburn's Proof?
2

September 5th, 2010 + 12:09 PM
·

dkturner
This is part of a long-ish orchestral piece, but I think it stands quite nicely on its own. Sibelius -> MIDI -> Soundfonts -> MP3. If anyone has a decent timpani soundfont, please let me know!
0

July 16th, 2009 + 6:07 PM
·

dkturner
I'll leave you to figure out what it means. Production could be better, but since I lost the original tracks I couldn't be bothered to redo it.
1

September 7th, 2007 + 9:09 AM
·

dkturner
This is not complete. I've posted it to get comments and suggestions on the structure. In particular, it's missing the lead guitar. Please comment, good, bad or otherwise.
6

August 16th, 2007 + 4:08 PM
·

dkturner
This is a draft. It needs a classical voice, which I don't have (yet :-)). Also the synth keyboard is a bit annoying, but my playing is too ragged at the moment to give a live performance. Maybe in a few months.
14

July 26th, 2007 + 7:07 PM
·

dkturner
Something different... What was I on at the time? I honestly don't remember.
Alias:
dkturner
Status: Offline
Threads:
9
Posts:
34
Songs:
8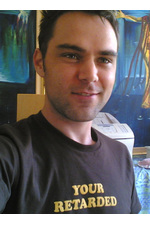 Joined: July 24th, 2005
Last login: March 13th, 2015
My Messengers
| | |
| --- | --- |
| AIM: | n/a |
| ICQ: | n/a |
| Skype: | n/a |